Plan Your Visit!
How long is the service? Our service starts at 10:30 am with worship, fellowship time, and announcements. We usually finish the service by noon and have communion on the first Sunday of the month, for those who have submitted their lives to Jesus Christ as their Lord and Savior! A special Benevolence offering is taken after the service on the first Sunday of the month. This offering is collected by a deacon who will be in the foyer as we are exiting the building.
What about kids? For young kids, ages 0-4 [pre-k], head straight to the nursery area to check-in. Older students can head upstairs from there to go to their respective classes for the first hour of Sunday School. For the 10:30 service, the older students will start in the service with us, to experience worship & fellowship. They will then be dismissed to the back foyer. From there, they will be led upstairs for Children's Worship (Grades K-3). During this time, older student helpers and adult leaders will be teaching them why we come to church, why we do what we do in service, and working through the New City Catechism with them. You can read more about that curriculum on this website.
What's the service like? We have a diverse body of believers at Park Hill Baptist Church, including a Korean church that also meets in our building on Sunday mornings. During our service, we do have a greeting time, where we seek to meet everyone and be encouraging. We hope that you find a warm family atmosphere each time you come to PHBC. We have been without a music pastor since September of 2019, and currently have many volunteers stepping up to help lead our Music. We sing a blend of hymns and contemporary songs each Sunday. The staff chooses songs that are Biblical and Theologically sound that encourages us in Christ and direct our hearts and minds to praise and reflect on God and God's Word.
How do people usually dress? We have a very diverse congregation, and you will see that in the styles of dress. The pastor normal preaches in a collared shirt, and on any given Sunday, you will see everything from a suit and tie to shorts and a t-shirt. On holidays, we have several members who come from other parts of the world, and they will probably be wearing the traditional dress of their country of origin. Come as you are, and know that we are glad to have you worship with us.
Here are a few other things you may want to know.
Where should I park? The map below should help you know where to go. Our building can be hard to navigate your first time here. If you have young children, we recommend coming to the North entrance that is right by the nursery check-in counter. This entrance is also, by the stairs that lead up to the youth room and student classes on the second floor.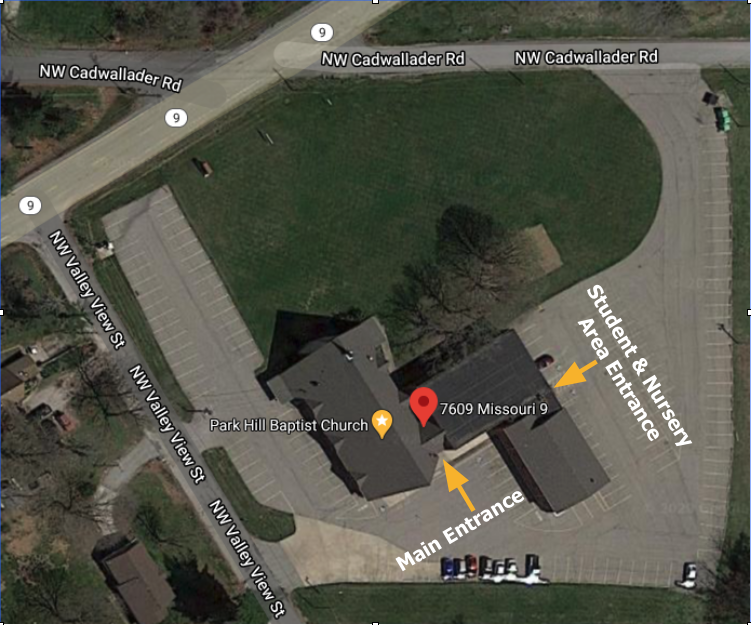 Do you have coffee? Yes, people ask this. We have two options, if you like to pick your type of coffee, we have a Keurig and a donation jar in the coffee bar area, right beside the main entrance. We also partner with a great local ministry to provide the coffee in our large carafe. That ministry is Eleos Coffee in the Northeast area of Kansas City. You can read more about their ministry and mission on this website. http://eleoscoffee.com/
Where do I pick up my child after Sunday School? For smaller kids, ages 0-4, your child will stay in the nursery the entire time. For older students, they will have Sunday school on the 2nd floor during the first hour (9:15-10:15 am) and will then meet you at the bottom of the stairs, by the nursery check-in station.