Spark Studios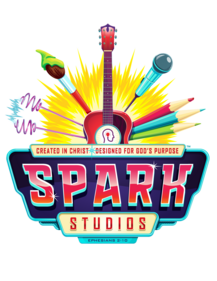 Join us at Park Hill Baptist Church's Spark Studios where imagination is ignited and creativity is awakened! Kids will learn to use their talents to bring glory to God. They will discover that their creativity is a gift from the infinitely creative Creator who designed them for His glory.
When: 6-8 p.m. June 6-10, 2022
Where: Park Hill Baptist Church, 7609 MO-9 Kansas City, MO 64152
For whom: Kids PreK (ages 4-5) to those who are in fifth grade in the 2021-2022 school year.
Enjoy a preview of this year's VBS theme!
We can't wait for VBS 2022!
Pray for VBS
Would you join us in praying for this special and important week-long event? Some requests are below:
Pray for the children God would bring to VBS. Pray for Him to be drawing them near to Himself and readying their hearts for the truth they will learn this year at Spark Studios.
Pray for the volunteers who are spending their evenings pouring into these kids, whether they are group leaders or helping in a certain area like Bible Lessons, Crafts, Games, Snacks, Music or Missions! Pray that they would be drawing near to God in their own study of His word and that He would equip them to serve the children and each other well for His glory!
Pray for the families of the children and the volunteers involved in VBS this year. Pray for protection and spiritual provision for each family. Pray that God would bring about great conversations about Himself and the Lord Jesus Christ on the drive home from VBS each evening and around the breakfast table the next morning.
Thank you for praying!